Eva Eastwood Candy cd release 16/10 - Lp release 30/10 - 2020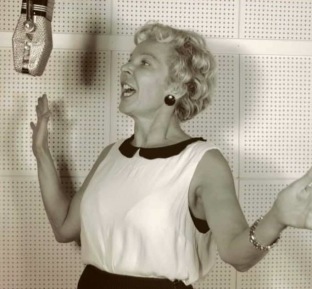 Swedish rockabilly queen Eva Eastwood celebrates 20 years as a recording artist with her 12th studio album "Candy", a bag of self-penned sweets for everyone who loves the music of the late 50´s and early 60´s.
​​​Two decades of inspired songwriting, recording and touring hasn't just made her one of Sweden's most beloved artists in this genre – three headlining performances at England's biggest rockabilly festival Hemsby proves that she's also made a strong mark on the international market for rootsy rock'n'roll.
The title track and first single "Candy" has already indicated that Eva's on top of her songwriting game. Song after song takes you on an amazing travel back in time to the lovely melodies and infectious groove that poured out of the first rock'n'roll generation's transistor radios and jukeboxes. So convincing is her ability to zoom back to the songwriting atmosphere of those legendary days that you'd be forgiven for thinking that "Candy" might be a collection of cover versions of classic tunes by Brenda Lee, Etta James or Ruth Brown. But it's just another example of 1960. Dive deep into "Buzz", "Is My Baby Happy Now" or "Old School" for proof in the matter.

Eva's band The Major Keys – consisting of Chris Bergström (guitar), Jan Östlund (bass) and Adam Östlund (drums) - backs her up with their usual groove and sense of economy, occasionally helped out by pianists Jonaz Wilson Stoltz and David Nordlund as well as Stefan Månsson on saxophone.

Together they put a groove to Eva's catchy songs that makes you want to forget everything about social distancing and just get out there on the dancefloor. But for now, we'll have to do with a collection of songs so sweet that it can make even a dentist addicted to sugar.

Here's some brief info on what she's been up to so far:

2000-2005:
At the end of the 90's American producer Bob Johnston - the man behind legendary 60's albums like Bob Dylan's "Highway 61 Revisited", "Blonde On Blonde" and "Nashville Skyline", Simon & Garfunkel's "Sounds Of Silence" and "Bookends" and Johnny Cash's "At Folsom Prison" – hears a demo with Eva's songs, and is so impressed that he contacts her for a possible cooperation. At the same time Eva is offered a record contract with an American label, but since the deal means that she has to move to the US she ultimately declines the flattering offer.

Eva Eastwood and her band The Major Keys instead takes Scandinavia by storm with their true rockabilly sound with their debut album in 2000. After three albums with rockabilly and English lyrics, Eva releases "En ny stil i stan" which sounds so much like a Swedish version of a Connie Francis album from 1959 that people actually think its leftover songs from old Siw Malmqvist recordings.

In the summer of 2005, she performed the song "Vårt liv i repris" at the "Allsång på Skansen" tv show, and instantly the rest of Sweden suddenly discovered what every 50's loving hot-rodder in the country already knew.

2006-2009: After five albums as the goddess for lovers of 50's inspired rockabilly, Eva takes a giant leap into the modern age. In 2006 "Ton Of Heart" is her first album with contemporary sounding recordings: 14 self-penned songs in various styles, but with a charming country undertone. It's soon followed by "Well, Well, Well" (2008) and "The Beat Goes On" (2009) – charting at #2 and #6 respectively, in a time when record sales has started declining.

2010: Eva Eastwood is awarded the Millencolin Music Price Award in her hometown Örebro.

2011: "Lyckost" is a return to the Connie Francis/rockabilly sounds of "En ny stil i stan" and enters the Swedish charts at #2 in 2011. Eva follows that with a performance on Sweden's mega popular sing-a-long tv show "Allsång på Skansen".

2012: "Oh What A Party" is yet another Swedish chart success, once again entering at #2. In May she performs at England's biggest rockabilly event, The Hemsby Festival. In August she will be inducted into the Rockabilly Hall of Fame in Jackson, Tennessee.

2017-2020:
In 2017 Matz Eklund's film about Eva's dramatic life - "Eva en lyckost" is released, coinciding with a greatest hits collection. And in 2020 she celebrates 20 years as a recording artist with her 12th studio album, "Candy".